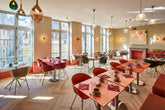 Hotel de Cambis is located in Avignon, France. A stunning hotel decorated in a rainbow of colours. Combining reds, greens, and neutrals creates a balanced environment. 
The project features our Lute, Rowan, and Horizon pendants in clusters around the entire ceiling. The walls are dressed in Horizon surface lamps, creating a beautiful lighting effect when the light meets the wall through the soft glass. 
Project by Julie Gauthron & Deltabuy
Our collection of handmade lighting comes in a wide selection of colours. We produce high quality lighting and are able to customise and adjust our production to match your needs. 
Want to feature EBB & FLOW in your next project?
Please contact Thomas Kronevald at thomas@ebbandflow.dk.