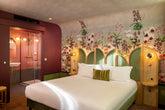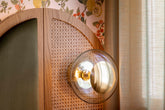 The outstanding Hotel Jardin de Cluny in Paris was completely renovated in 2021 and now features EBB & FLOW lamps in different parts of the hotel. The hotel was redesigned as a boutique hotel with decorative wallpapers, a combination of natural materials, and exclusive lighting. 
We are so honoured that our lamps are decorating both the lobby and the rooms. A mix of our Rowan, Futura, and Horizon pendants in glass and crystal enriches the lounge area in the lobby accompanied by stunning prints on the walls and rattan furniture. The mix of materials creates the perfect balance. 
The rooms are beautifully decorated and illuminated by our Horizon surface lamps in different colours to match the aesthetics of each room. A lamp design that sheds a magical light when it shines against the wall and into the room. It creates a highly decorative and calm light because of its glass shape and brass details. 
Project by Julie Gauthron and Deltabuy
Our collection of handmade lighting comes in a wide selection of colours. We produce high quality lighting and are able to customise and adjust our production to match your needs. 

Want to feature EBB & FLOW in your next project?
Please contact Thomas Kronevald at thomas@ebbandflow.dk.