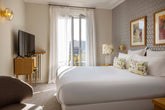 A stunning fusion of botanical fabrics, soft glass colours, and wooden details at Hotel de Banville in Paris.
Our lamp designs light up the hotel and create a relaxing atmosphere for the guests. The fabric lampshades add colours and patterns to the rooms with decorative pillows in the same fabrics.
"Between antiquity and modernity, our hotel was inspired by the "Shabby Chic" style, elegant, refined, and authentic."
Project by Emeraude Hotels
Our collection of handmade lighting comes in a wide selection of colours. We produce high quality lighting and are able to customise and adjust our production to match your needs. 

Want to feature EBB & FLOW in your next project?
Please contact Thomas Kronevald at thomas@ebbandflow.dk.