Shape your home with elegance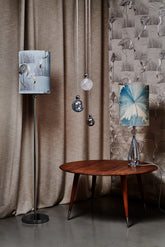 All EBB & FLOW designs have a touch of elegance. To be honest, glass and crystal really are elegant materials, but some of our designs can actually shape your home and add a true sense of elegance.
Meet our Barre, Uva and Smykke designs.
A tall and simple design
Barre is a tall and simple design made from silver or gold brass. The silhouette and shiny polish make up an elegant lamp base, ready to be paired with your favourite fabric lampshade. This lamp allows you to make a statement with the fabric lampshade at the top while keeping a simple and elegant touch at the bottom.
Bring a sense of nature and vintage into your home
Uva is inspired by the shape of a grape, the Italian word for the colourful fruit, as well as vintage perfume bottles. A small, circular pendant with all technical features hidden in the silver or gold brass ball. Create your own modern chandelier with our Uva pendants in different sizes, colours, and crystal cuts.
A piece of jewellery
Inspired by an elegant earring, and the name meaning "jewellery" in Danish, Smykke is a true dress-up design with a feminine touch. As you use jewellery to decorate yourself, Smykke will decorate any space. Smykke creates a significant and elegant statement, whether as a table, pendant, or wall lamp.