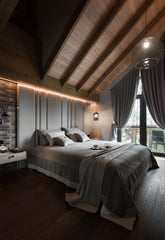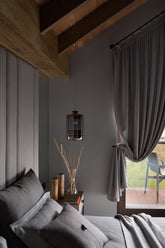 This dreamy Ukranian home is decorated with a nordic sense of style, rustic elements, and beautiful lighting.
The living room corner catches the attention of the eye with a cluster of Lute pendants. With their simple yet detailed shape they become a part of the exciting decor in the room.
Materials such as wood, linen, brick and glass dress up the bedroom. All elements contribute to the calm and peaceful mood in the room. A Pillar pendant dangles by the bed, adding a touch of exclusiveness and elegance to the room.
Project by Natalia Oleksienko from Evolutionary Architecture.