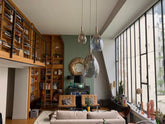 In this French loft flat, you are met with a colourful trio of Lute pendants. Obsidian, Topaz blue and Smokey grey - the transparent glass transforms these bold choices into a neutral palette of colours that reinforces the nuances of the room. The platinum fitted Lute pendants provide an elegant impact upon this urban space. 
Our collection of handmade lighting comes in a wide selection of colours. We produce high quality lighting and are able to customise and adjust our production to match your needs. 

Want to feature EBB & FLOW in your next project?
Please contact Thomas Kronevald at thomas@ebbandflow.dk.