Renovation of Parisian flat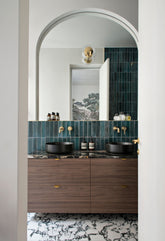 For this project, Nicolas Bossard Architecture worked with a family to renovate a Parisian flat.⁠
⁠
The challenge of this project was preserving the beautiful 19th century existing features but also using a modern architectural language to modernise the space. ⁠
⁠
"We were looking for a light fixture to act as a counterpoint to the arch of the custom-made mirror niche. The EBB&FLOW Horizon surface lamp was perfect for that as the gold offered a focal point for the eye while the glass allowed us to play with reflexions and transparency."
Our collection of handmade lighting comes in a wide selection of colours. We produce high quality lighting and are able to customise and adjust our production to match your needs. 
Want to feature EBB & FLOW in your next project?
Please contact Thomas Kronevald at thomas@ebbandflow.dk.