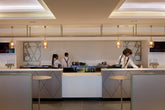 We are proud that our Lute pendant is featured in multiple areas of the VIP club at Wembley Stadium in London, UK. 

With only 120 members, the club is called One Twenty Club and is the most prestigious in Wembley's history, offering a relaxing lounge area, bar, and an exclusive restaurant. We are proud to light up a space like this.
The Lute pendant is represented in the bar and lounge area and add sparkle to the exclusive surroundings. 
Project by KSS
Our collection of handmade lighting comes in a wide selection of colours. We produce high quality lighting and are able to customise and adjust our production to match your needs. 

Want to feature EBB & FLOW in your next project?
Please contact Thomas Kronevald at thomas@ebbandflow.dk.