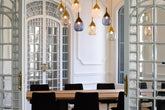 On Diagonal Avenue in Barcelona, you will find this beautiful and traditional office. The office is housed in a modernist building called Casa Sayrach. The name referring to the architect who designed every beautiful corner of the building. A unique work of art.
Turull-Sorensen Architects did a glam-up of the office to enhance all the small details of the traditional building and restore the parts that needed it. The purpose of the project was to create a motivational professional workspace with respect for the original details. 
Using contrasting colours and decorative lighting from EBB & FLOW, the office is now filled with stunning details. Looking at the colourful Lute pendants from EBB & FLOW through the arched glass doors, you cannot help to want to stay. The curves of the building and the organic shape of the pendants create the perfect harmony.
The project features the Lute pendant from EBB & FLOW in Forest green, Golden smoke, Alabaster and Deep blue. The office rooms have been painted in light colours to brighten up the space and create a focus on the elegant details of the doors, walls, and lamps.
Project by Turull-Sorensen Architects
Our collection of handmade lighting comes in a wide selection of colours. We produce high quality lighting and are able to customise and adjust our production to match your needs. 
Want to feature EBB & FLOW in your next project?
Please contact Thomas Kronevald at thomas@ebbandflow.dk.