This statement lighting is done by the Nielsen House. Our Horizon pendants has been handpicked by the designers in colours, shapes and sizes to create a soft ambient glow across this dining space.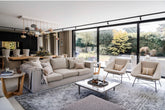 The 16 Horizon pendants are floating above the dining area. The Nielsen House interior designers specialise in finding the perfect combination of colours, textures and light to create unique, imaginative spaces. We love how it turned out. 
Dinner is served. Details is everything.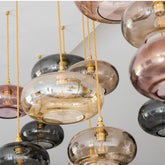 Photographer is Lee Mann (Instagram @leejohnmannphotography)
Interior Designers is Nielsen House https://www.nielsenhouse.co.uk/
Products are Horizon Pendants