Crystal pendants in a dreamy kitchen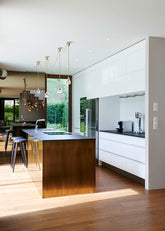 A bright and warm light is shed by impressive crystal pendants in this stylish kitchen. Kitchen trends change all the time, but crystal pendants are a timeless, and at the same time complement the modernity of the kitchen with their classic, noble look. 
The reflection created by the mirror infuses life into the space and opens up the room. 
A private project by Raumkonzepte Peter Buchberger - Münich, Germany.