Restaurante Bistró Huerta De Carbana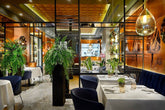 Bistró Huerta De Carabana is a delicate restaurant located in Madrid, Spain.
The interior space is constructed by several incredible layers, from brown golden walls to blue velvet chairs, green plants, white table cloths and our Lute pendants in Golden Smoke.
Beautifully placed at each table, the Lute pendants manage to blend into this comprehensive space while attracting attention at the same time.