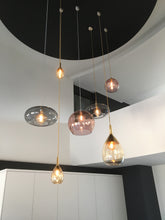 It's a sky of lights - seven pendants dripping down from the ceiling in different sizes and shapes. Lute, Rowan and Horizon in dynamic colours.
The solution of light offers an eye-catching piece of art that fills the room all the way up to the dark ceiling - it's a dreamy feeling.
Korage Interieur from Belgium styled this space in a private residence.