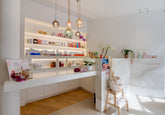 This cute beauty center is located in Belgium.
The power of colours is clearly expressed in the cluster of glass Rowans in bright coral, smokey grey, blue and forest green. It brightens up the white walls and interior and corresponds perfectly with a variety of colours among the beauty products.
The project was completed by Lightpoint, Belgium.