An elegant earring made into a lamp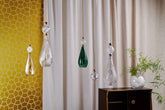 Inspired by an elegant earring, and the name meaning "jewellery" in Danish, Smykke is a true dress-up design with a feminine touch. As you use jewellery to decorate yourself, Smykke will decorate any space.
Smykke is an elegant and statuesque design that will add character to your home instantly. Colours range from soft to dramatic, giving you the option to choose your favourite. While it looks stunning on its own, it also adds a mesmerising and exclusive feel to a cluster of different designs.
Smykke is available in three different lamp base and pendant sizes and as a wall lamp. The imposing design is your best friend if you need a lamp for your hallway, bedroom, dining area, or living room.