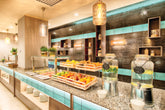 At this lifestyle hotel in Milan,  you should expect the unexpected. All spaces are packed with vibrant designs, out of the ordinary elements, and bold colours - it's a unique experience.
The elegant but edgy Pillar pendants suit and fulfill the
interior setting with their opulent and decorative lighting effect.
Interior design by Neudahm Hotel Interior Design.