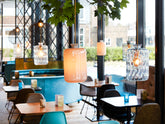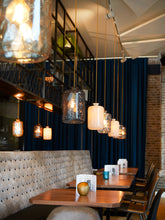 In the Dutch town Vught is a church called St. Petrus. The restaurant Hemels Vught has been established in the old church. The restaurant has a warm and luxurious appearance with its vintage elements.
The smokey grey and mother-of-pearl grey coloured Pillar pendants hanging above each table complements the luxurious vintage style with its warm light. 
The project was facilitated by POP Light.