An open plan bright beauty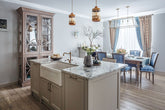 There is plenty of natural lighting in this classic kitchen. But try to imagine late evenings, cooking or hanging out in the kitchen, and seeing the light from Pillar pendants fill the room.
The shape and the metallic colour of the copper striped Pillars is a deviation that adds an elegant touch to the otherwise sweet and natural colours in this space.
Interior project by Enjoy Home, Russia.