A-spire / New pendant design
To A-spire.
The ebb and flow of life is a constant change of direction, to slow down or speed up, too look back in time and into the future.
So the brand new A-spire lamp design from EBB & FLOW is a delicious cocktail of just that, a fusion of vintage, 1970s retro and forward-reaching.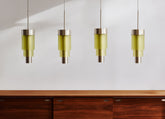 A linear silhouette that puts brushed brass and glass together in a true expression of Scandinavian design, A-spire has the scope to embrace sleek with earthy and organic.
A simple design that looks equally at home in a private home or a smart hotel.
"I took inspiration for the shape of A-spire from a lamp that hung in my parents' bedroom in the 1970s, it had 3 metal tubes inside each other. The lamp is long gone, no photos exist, but for the ones in my head", says Susanne Nielsen, EBB & FLOW founder and designer.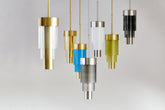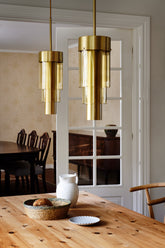 The name A-spire is two-fold, it is statuesque like a spire, and at the same time is a little twist on words to signify aspiration, in this case our aspiration, to deliver a beautifully designed lamp.
In a rare move away from mouth-blown glass, A-spire is constructed using brass and borosilicate glass to achieve the two completely straight glass tubes for the design. A precise and technically advanced type of glass produced in bold vintage opaline colours white and blue.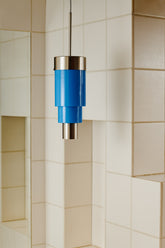 For a very different look that reveals more of the lamp's brushed brass details, A-spire is available in transparent golden smoke, smokey grey and clear glass with horisontal cut lines as well as cool sand-blasted shades olive and grey.
The lamp uses a built-in LED light source, designed to direct light both downward and sideways.
Complete joie de vivre – A-spire expresses a positive and joyful outlook on life.
Press contact
Susanne Nielsen
Susanne@ebbandflow.dk