EBB & FLOW introduces a new lighting design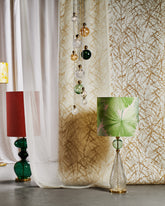 Danish EBB & FLOW introduces a new design by founder and Creative Director, Susanne Nielsen. The new Uva lighting design is inspired by the shape of a grape, the Italian word for the colourful fruit. A circular pendant that can be styled as singles, in rows, or clusters, much like a grape.
Hang your Uva lights in a cluster and imagine yourself walking amongst rows of grape vines on a slopy vineyard. Taking in the landscape. A fruity cluster of elegance.
Inspired by a product of nature, it is like bringing an illusion of nature into your home. The Uva is suitable for any decorative setting, be it a bedside lamp, a modern chandelier over your dining area, or a beautiful pendant in your kitchen or bathroom.
As the design progressed, Uva revealed yet another visual expression.
The pared-down simple brass ball and the glass and crystal balls revealed the look of a perfume bottle in a range of translucent colours and cuts.
Uva is available in two sizes and a wide range of colours, giving you lots of choice to express your personality. Using low voltage G4 LED technology, the lamp fitting is built into the brass ball of the design. This creates a simple lamp design, where all technical features are hidden, it's all in the ball. 
The Uva lamp takes you through a European journey of craftsmanship. It is built of high-quality materials, produced in different parts of Europe. Mouth-blown glass and crystal, polished brass in gold or silver, and hand-cut crystal. Each of the three crystal designs covers the entire surface of the pendant, a design detail made possible by the cutters' superb craftsmanship. Like all EBB & FLOW lamps, Uva is a product of European hands, hand-built in Denmark.
Uva is available from June 2021.