EBB & FLOW expands its Smykke lighting collection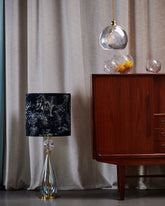 Danish EBB & FLOW now introduces its delicate Smykke design in size L. Inspired by an elegant earring, and the name meaning "jewellery" in Danish, Smykke is a true dress-up design with a feminine touch. As you use jewellery to decorate yourself, Smykke will decorate any space.
The new Smykke L design creates a significant and elegant statement, whether as a table or a pendant lamp. Choose an all-glass design in your favourite colour to add a touch of personality to your home. Colours range from the soft to the dra- matic, representing something for every style. Light blues, greens and pinks are perfect for creating a Spring/Summer atmosphere in your home. Combine glass and crystal to create a balanced and exquisite lamp. Or even choose an all-crystal Smykke lamp, being the most exclusive and sophisticated lighting design.
Both the crystal and glass parts of the design are mouth-blown, while the crystal is also cut by hand. Really, the lamp represents impressive European craftsmanship. A lot of precision and detail goes into every part of the lamp, and being handmade, each lamp is truly unique. In fact, the lamp is finished and hand-built in Denmark.
The Smykke table lamp can be paired with our fabric lamp shades in size F and G. Make room for personality and choose the fabric lamp shade of your dreams.
The tall statuesque design makes it an imposing decoration for your living room. Find a fabric lamp shade that speaks your name and Mix & Match your own lamp. A tall beauty shining bright in any room of your home.
EBB & FLOW also introduces a new crystal facet cut. The Swirl design.
A mesmerising crystal cut that catches your attention and reflects the light beautifully. This crystal cut is available in all sizes of Smykke.
Smykke L is available from July 2021.